RM499: Best Eyeliner Embroidery Package KL Ampang Cheras
Best Eyeliner Embroidery Package Promotion 2022
Looking for a Professional Semi Permanent Eyeliner Embroidery nearby KL Kuala Lumpur, Cheras & Ampang Areas?
Ally Beauty Semi-Permanent Eyeliner Embroidery / Eyeliner Tattoo Service @ RM499 Only!
Your are in the right place and get the Best price for Eyeliner Embroidery Service in Kuala Lumpur, Malaysia.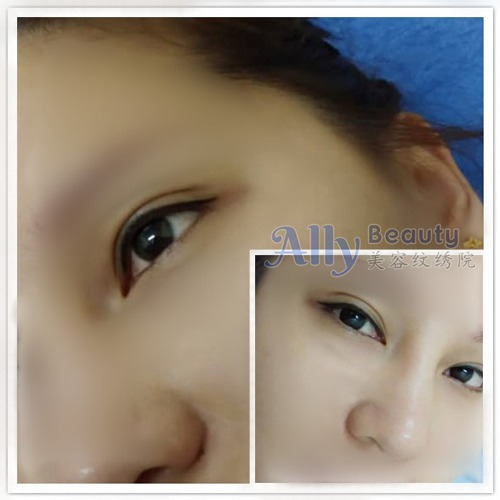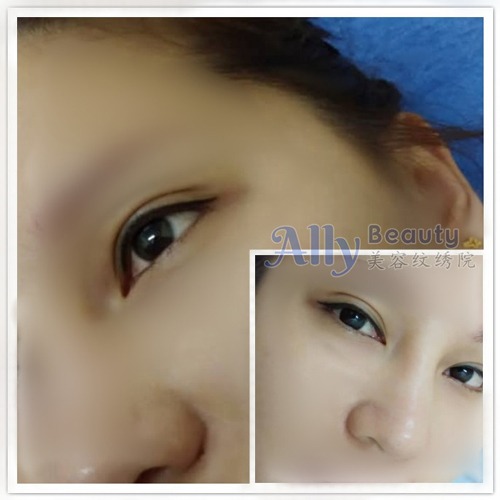 Are you looking to make your eyes look bigger, look more awake and more refresh? Tired of constantly having the need to draw on the eyeliner before you go out? Or having to touch up your eyeliner as it falls off during the day? How about as soon as you wake up in the morning to see a pair of beautiful bright eyes staring back at you?
Ally Beauty Eyeliner Embroidery Package:

Free One Time Touch up.
Experienced eyeliner embroidery specialists.
Private rooms to ensure your utmost privacy and comfort.
Natural Ingredients.
Safe & Hygiene.
Free Consultation.
Ally Beauty Eyeliner Embroidery Customer Samples
Eyeliner Embroidery Process
Eyeliner Embroidery is actually known as a Semi permanent makeup or cosmetic tattooing. The process is just like getting a tattoo. The procedure uses a needle that penetrates your skin and releases pigment. the pigment is applied to the top layer of the skin.
The droplets of pigment are released into the hole the needle makes thus the feeling of stinging may be felt a little. After the embroidery procedure, the color will likely look dark and shiny, it takes about 3 – 4 weeks for the color to fade to its permanent shade.
In this procedure, coloured dye is injected into the upper or lower lash lines making you look like you are wearing eyeliner all the time. No more worries of smudges as you will now have dazzling peepers for up to 2 -3 years.
Our embroidery specialist are experienced and are fully equipped to assist you with the required services. Say goodbye to the daily routine of applying eyeliner and save you some precious time.
Is Eyeliner Embroidery Safe?
At Ally Beauty, we are always safety come first. Each tool comes individually sealed, sterilized and will be disposed off after the treatment. We never reuse it at another customer.
Is Eyeliner Embroidery very pain?
Our embroidery specialists will apply a superior numbing cream to the treatment area to minimize discomfort of the customers. 8 out of 10 customers feedback that they don't feel any discomfort during the process and for those who do, the discomfort is not more painful than tweezing.
How long can the Eyeliner Embroidery last for?
Semi Permanent Eyeliner Embroirdery may last up to 2 to 3 years depending on individual skin type, skin care products and daily activities.
Happy Customer After Eyebrow Embroidery, Eyeliner Embroidery


Others Promotion You May Interested:
About Ally Beauty – Eyebrow Embroidery, Eyeliner Embroidery KL Cheras Ampang Specialist
Are you Looking for Best Eyeliner Embroidery in KL? Or looking for Best Semi Permanent Eyeliner Embroidery Service near by Cheras & Ampang Area?
Ally Beauty has more than 10 year experience & through the Korean semi-permanent makeup technology, help our customers to make their eyes look bigger, look more awake & refresh, it is very natural and good-looking.
We provide professional eyebrow embroidery and eyeliner embroidery services around kuala lumpur, cheras and ampang area.
Our eyeliner embroidery color does not change red, not blue, do not faint color as time pass by.
This make you refreshing, but also has the temperament, the fresh feeling.
And let you have a beautiful and charming eyes, the instant change to pretty lady.
Where is Ally Beauty located?
Our Shop is located in Pandan Indah, Nearby Shopping Mall: Sunway Velocity, Aeon Maluri, Mytown & Ikea Cheras, EkoCheras And Leisure Mall.
Please make you appointment before paying us a visit.
Ally Beauty Details: Embroidery Specialist Kuala Lumpur
📞 Tel: 012-6091865
👉 Whatsapp: 60126091865
👉 FB Messenger: http://m.me/allybeautyhouse
🏠Location: No. 14-2, Jalan Perubatan 2, Pandan Indah, 55100 Kuala Lumpur.
🚙 Waze: Ally Beauty
✨ By Appointment Only ✨
Pandan Indah is around & nearby to Taman Muda, Ampang, Pandan Jaya, Taman Segar, Taman Connaught, Taman Midah, Sri Petaling, Petaling Jaya, Mid Valley, Pudu, Kuala Lumpur.

It's 30 Minute driving from Kepong, Selayang, Batu cave, Bandar Sunway, Kota Damansara, Puchong, Subang, Seri Kembangan, Cheras Mahkota & Sungai Long areas.