Minimal Mini Tattoo At KL Ampang Cheras @ RM99++
Are you looking for a Simple & Beautiful Minimal Tattoo?
Now at Ally Beauty has a special offer, you can get a mini tattoo with only RM99++!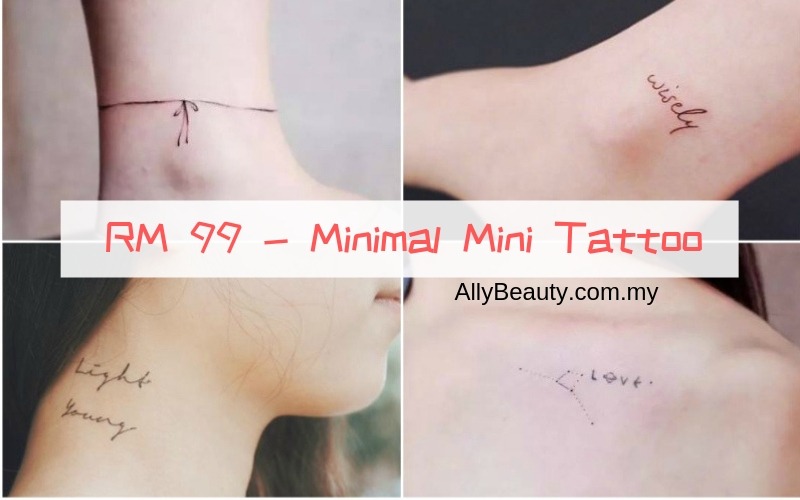 What is Minimal Mini / Tiny / Micro Tattoo?
Mini tattoos are made by injecting ink into the bottom layer of the skin and making some patterns or words on the skin. Embroidering various patterns on the body to see auspiciousness and worship.
So how much is the charges for a mini tattoo / tiny tattoo in Kuala Lumpur, Cheras & Ampang area?
At Ally Beauty, the Special Price starts at RM99++!
Tattoos are not just large flower arms, large flower legs, large flower backs, but also can be painted very small and fresh, one flower and one grass, small, quietly staying in a certain part. If you don't pay attention, you may not see it. If you see it, you will only feel very refined, without any arrogance.
Many small tattoos and mini tattoos have become the choice of the present, no matter whether it is Korea style minimal tattoo, cute tattoo, simple style tattoo, everything is there~
Tattoos can tattoo yourself, your family, your beliefs, your dreams, or your feelings. If you want to go a little simple, but not lose the popular style, mini & small tattoo, will be your best choice!
Our Customer Samples of Minimal Tiny Tattoo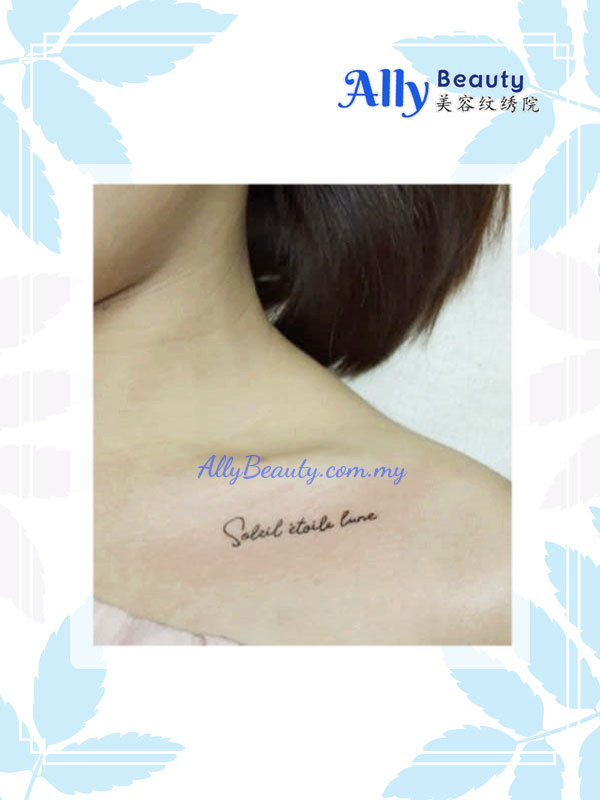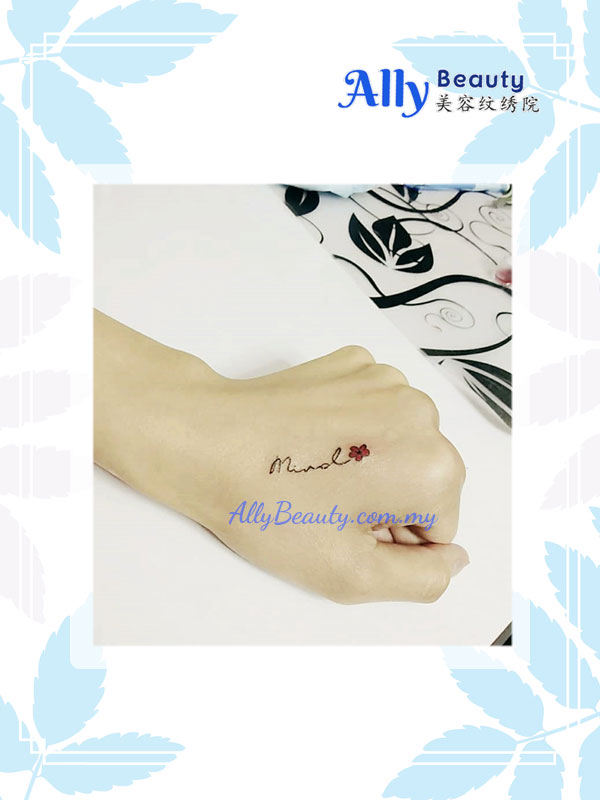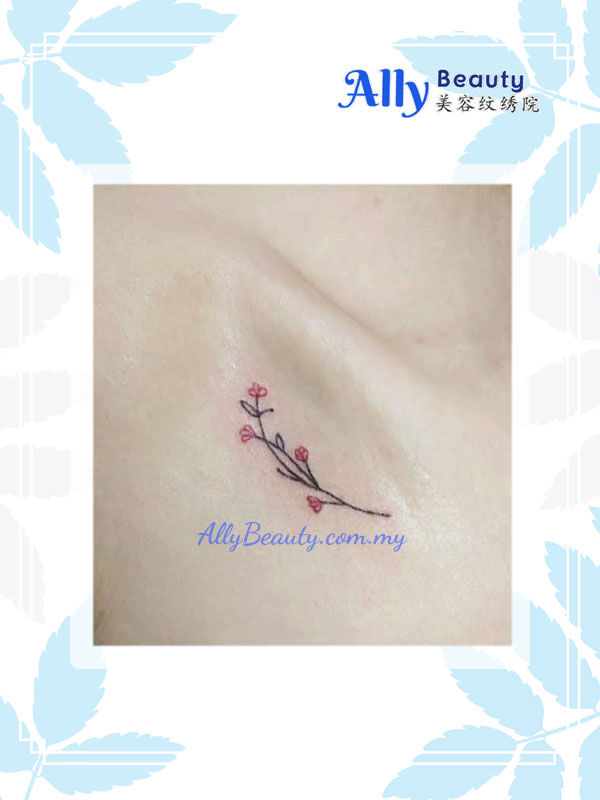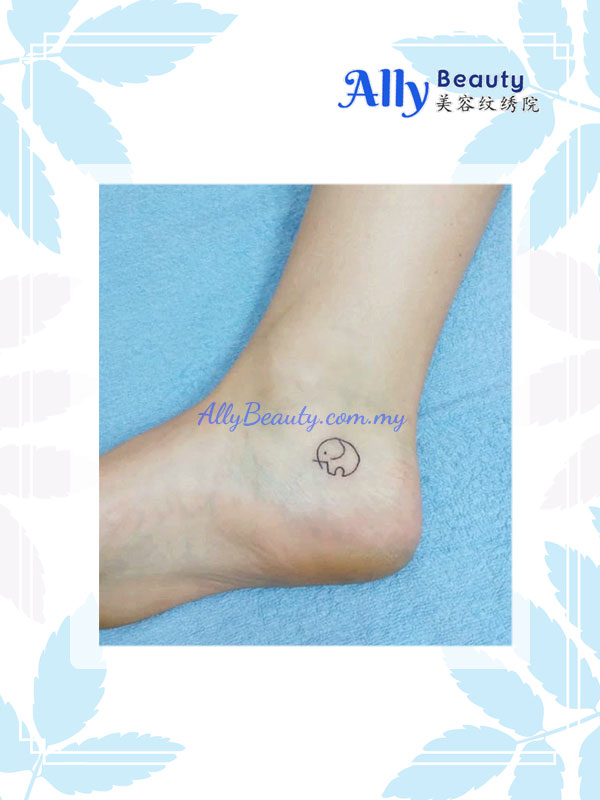 Small & Mini Tattoo FAQ:
Will a small or mini tattoo hurt?
Everyone has different pain points, and some female can still bear more pain than male. If you are tattooing for the first time,  it is recommended to be tattooed in a place with a lot of muscle, such as the inside of the arm, not very painful.
Generally, more bones and less muscle, as well as vascular nerves and thin skin parts, are more painful when tattooing, such as fingers, elbows, collarbone, shoulder blades, ankles, etc., which are more painful; In addition, the inside of the arm also hurts more than the outside, because its cuticle is thin and dense with blood vessels and nerves.
I am afraid of pain, can i use numb cream or anesthesia?
Small or mini tattoos do not use anesthetics or numb cream. The so-called topical anaesthetics have little effect. Most of them are only psychologically comforting, and effective injection anesthesiologists have no right to operate. In addition, anesthetics or numb cream can also affect the body tattoo color.
We will provide free consultation, please contact us for more details:
📞 Tel: 012-6091865
👉 Whatsapp: 60126091865
👉 FB Messenger: http://m.me/allybeautyhouse
Ally Beauty:
🏠Location: No. 14-2, Jalan Perubatan 2, Pandan Indah, 55100 Kuala Lumpur.
🚙 Waze: Ally Beauty
✨ By Appointment Only ✨
Our Shop is located in Pandan Indah, which is around MRR2, Ampang, Nearby Shopping Mall: Sunway Velocity, Aeon Maluri, Mytown & Ikea Cheras, EkoCheras And Leisure Mall.
Nearby Taman: Ampang, Pandan Jaya, Shamelin, Pandan Perdana, Taman Segar, Wangsa Maju, Setapak, Taman Muda, Taman Pertama, Taman Midah, Taman Segar.
Please make you appointment before paying us a visit.
Are you looking for:
#Best mini tattoo in KL Kuala Lumpur
#Best mini tattoo near Cheras area
#Best mini tattoo near Ampang area
#Korean Minimal Tiny Tattoo Malaysia
#Korean Minimal Tattoo Price Malaysia