Are u Suitable on Korean Semi-Permanent Mist Fog / Water Mist / Soft Eyebrow Embroidery ?
The fog eyebrow is a kind of eyebrow shape, and the effect is probably like the eyebrow powder slowly sweeping over, showing the faint feeling. The Korean semi-permanent embroidered eyebrows that have been popular in recent years, one of which is the powder eyebrow. Semi-permanent eyebrows are a relatively advanced set of makeup, which is more natural than the previous eyebrow embroidered eyebrows.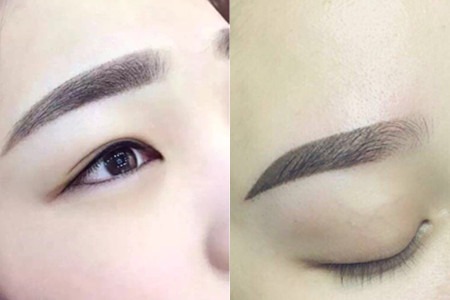 In the previous, the effects of eyebrow embroidery are permanent. When the time is long, there will be problems of turning to blue or green colors, which will affect the appearance. This semi-permanent eyebrow is by using a small tool,  a tattoo embroidery pen, which is used to gently embroidery the color on the skin. The semi-permanent eyebrows are inserted into the skin shallower, and the colorant is slowly metabolized by the body over time. This eyebrow effect can last for 2-3 years, so it is called semi-permanent eyebrow embroidery.
Who is Suitable for Ally Beauty's Korean Semi Permanent Mist Eyebrow / Water Fog Eyebrow / Gentle Soft Eyebrow Embroidery:
1) Unsatisfactory eyebrows: such as the eight-character eyebrows, the eyebrows are too wide or too straight;
2) Fracture eyebrows such as surgery and laser;
3) Eyebrows falling off due to illness or other causes;
4) The eyebrows are sparse and light in color;
5) Eyebrow defect caused by trauma or surgery, scar in the eyebrow;
6) The skin of the upper jaw is loose, and it is required to improve the eye shape;
7) Those who have no time to thrush for professional needs;
8) Both sides of the eyebrows are asymmetrical, the eyebrows are not ideal, or they are not satisfied with the original eyebrows.
Ally Beauty through the Korean semi-permanent makeup technology, help our customers to make out the eyebrows have like eyebrow powder swept through the faint feeling, hazy, like painting eyebrows, very natural and good-looking.
Guarantee the color does not change red, not blue, do not faint color as time pass by.
This make you refreshing, but also has the temperament, the fresh feeling. And let you have a beautiful and charming eyes, the instant change to pretty lady.
Korean Mist eyebrow / water mist eyebrow/ Soft eyebrow is very natural, the most suitable for the usual like light makeup friends, saving a tons of the make up time!
During operation; no pain, no swelling, no bleeding
We have more than 10 years of semi-permanent embroidery service experience, we provide you with the following semi-permanent makeup service:
We will provide you with free consultation, welcome to contact Us:
📞 Tel: 012-6091865
👉 Whatsapp: 60126091865
👉 FB Messenger: http://m.me/allybeautyhouse
Our Price Included:
✔️ Eyebrow shape design and consultation
✔️ Free follow up touch up
✔️ New embroidery needle for each customer, it is safe and hygine
【Ally Beauty Eyebrows & Eyeliner Embroidery Specialist】Nearby Areas:
Cheras / Ampang / Kuala Lumpur / Petaling Jaya / Kepong / Sri Petaling / Taman Segar / Connaught / Taman Maluri / Shamelin / Pandan Indah / Pandan Jaya / MRR2 Highway / Kampung Pandan Area.